The COMMUNITY GROUP

Waterrow Community Group was set up in November 1999 by a team of like-minded people in the village. The Group was formalised with an agreed constitution at an AGM on 17th January 2001 with the objectives of raising funds for the benefit of the communities within a designated two mile radius of Waterrow, incorporating Chipstable and Raddington.

MEMBERSHIP

Membership is open to individuals aged 18 and over who support the objectives and who live within the designated area.

COMMITTEE

The elected Management Committee currently consists of :

Richard Marsden Chairperson

John Bone, Deputy Chairperson

Anne Taylor, Secretary,

Treasurer,

Patricia Stratham, Publicity Officer

Judith Swan

Barry Fewster

New Committee members and re-election of officers takes place at the AGM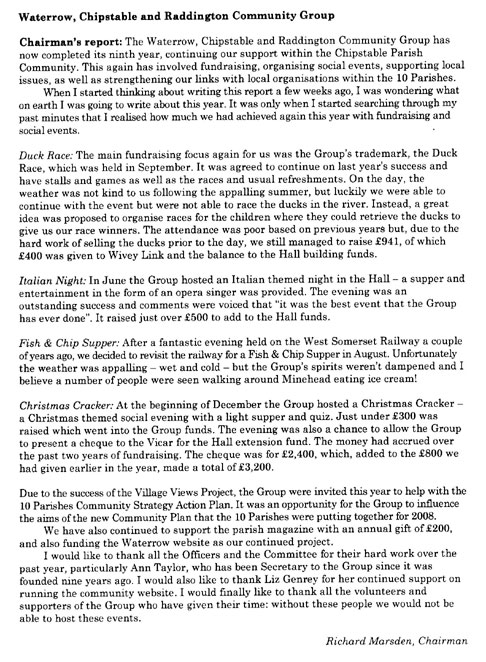 _______________________________________________AGM 2009________________
NEIGHBOURHOOD WATCH
The local neighbourhood watch scheme was set up in the autumn of 1998 at the instigation of Mr John Roberts of Springbrook Chipstable. Meetings where held at Waterrow Church Hall, advice taken from our local beat officer, signs bought, insurance arranged, and approximately 51 households registered.
Mr John Roberts Springbrook House co-ordinator 01984 624173
Mr Fred Newman East Meadows co-ordinator 01398 361346
Mrs Elizabeth Genrey Collards deputy co. 01984624434
The police now have three categories by which the public can contact them.
1 Real Emergency e.g. witnessing a burglary, witnessing an accident which requires a police presence, or seeing a stranger in the vicinity of a property which you know to be vacant at the time. Telephone 999
2 Semi- Emergency e.g. reporting a suspicious car or characters in our area Telephone 0845 456 7000 ( Police Station )
3 Non- urgent information for our Community Beat Officers
Telephone Landline -- 0845 456 7000
Telephone P.C. Nick Sweetenby - mobile -- 07717700659
Telephone Police Community Police Support Officer - mobile -- 07824 519244
Office Details -- Linsey Stone Watch Scheme Office, Bridgwater Police Station, Northgate, Bridgwater TA6 3EU lindsey.stone@avonandsomerset.police.uk
The basic principle of Neighbourhood Watch is to be aware during our daily routine and make note of anything suspicious in our area. If you are suspicious of an incident or vehicle, inform the police or a co-ordinator immediately, noting registration number of vehicle and number / description of occupants. The police will then take any action they think appropriate and the co-ordinator will inform other members in the area.
_______________________________________________________________