Waterrow, Chipstable & Raddington
---
THE CHIPSTABLE PARISH
Chipstable Parish Community Hall Survey 2007
1. Introduction
<![if !vml]>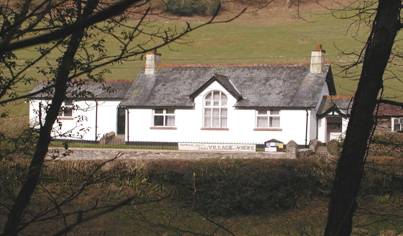 <![endif]>
The Hall at Waterrow
Chipstable is one of the most westerly parishes in the borough of Taunton Deane, and is probably one of the smallest with a population of around 200 people. It is set in beautiful undulating countryside, but is close to all amenities in the neighboring towns and villages of Wiveliscombe0., Bampton, Wellington and Dulverton. The area offers access to the beautiful Brendon Hills, is at the gateway to Exmoor and some of the most stunning landscapes in Britain. This may be one of the reasons that the area is home to many artists and craftspeople.
Chipstable, Raddington and Waterrow make up the Chipstable 'parish', and they may best be described as hamlets, their communities linked together by a network of small lanes, tracks and footpaths. This was and still is very much a rural community, with farms and cottages gathered on the undulating hills in the green river valley.
There are two churches serving the community. One, All Saints in Chipstable, is an interesting medieval church, parts of which date back to 1530. There is also an historic church at Raddington situated on an ancient sacred site – tiny and accessible only via footpaths across a field. Local people have described weddings where brides were carried to the church on their wedding day to avoid getting their dress muddy! The church and community hall is located in Waterrow and is still a focal point for community activities. It was built in 1908 and is shortly to celebrate its centenary.
An interesting way of exploring the Parish is to embark on the five mile walk which starts by All Saints Church. At one time, part of the route followed was used by Victorian schoolchildren to reach the school between Chipstable and Waterrow. The school building is still standing, and can be seen from the walk, but it has now been converted into a home.
This is still very much a working rural community, although in recent years the nature of the work undertaken has evolved to meet the changing demands of society. This is well illustrated by an examination of the historical use to which The Upper Tone river and some of its tributaries running down from the hills have been put. There is historical evidence of water mills at the Manor Mill, Pare Mill, Collards, Hurstone and West Bovey as well as a saw mill and a smithy at Chipstable. The Upper Tone itself winds down into the valley at Waterrow and flows on into the County town of Taunton.
There are still many flourishing small businesses, and a number of people now 'telework' from home. The village of Waterrow has both a pub and a garage, but there is no longer a shop. The Parish remains totally un-spoilt by over - commercialization, but is very popular with tourists who take advantage of the award-winning Touring Park, Manor Mill accommodation, Hillside Wooden chalets and a wide variety of other self-catering properties for rental. There are seven contemporary artists of local and national standing working from Hurstone Studios, Waterrow.
Waterrow is approximately a mile from the village of Chipstable and is a pretty hamlet on the edge of the Brendon Hills on the Taunton to Barnstaple road. As such it enjoys the most direct routes to the larger conurbations in both Somerset and Devon. Its accessibility has probably contributed to the fact that it is home to the only pub and garage in the parish.
This is a settlement of long-standing importance, with evidence of iron-age, Celtic and Saxon occupation in the surrounding hills. It was also an important transport hub in the local area, with the pillars of the Brunel built viaduct still visible. That structure carried the Taunton to Barnstaple railway from 1873 until 1966 when it was closed as part of the Beeching 'rationalization' of local railway lines.
The river in Waterrow was once the centre of a thriving business community – smithies (including part of the building which was to become the current Rock Inn) shops and workshops clustered around it. The Rock Inn evolved from The Rock House Inn during the mid 19th century. It was used as a coaching inn, and although it no longer needs to perform that function it is still an important gathering place for the local population.
<![if !vml]>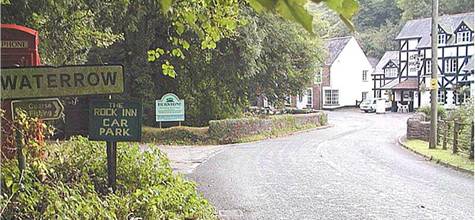 <![endif]>
The Survey
The Importance of the Church and Community Hall
This was a very comprehensive questionnaire, especially for a relatively small parish. There was a very high response rate of 80%. This is impressive and was due mainly to the commitment of those undertaking the survey, who delivered and collected the forms by hand
115 survey forms where delivered (one to each household in the Parish. There were 11 questions on the questionnaire, each question giving up to five members of an individual household the opportunity to express their views. After looking carefully at the number of people in the different age bands it appears that there were approximately 210 people giving their views on the 92 forms returned.
The responses to the questionnaire are detailed below. Some questions are illustrated with charts. There were also a number of 'open' questions, offering people the opportunity to express their opinions in their own words these replies have been listed under the column heading 'Other'.
<![if !vml]>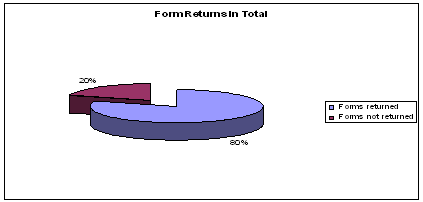 <![endif]>
80% returned the questionnaire 20% did not
Please indicate the number of people in your household in the following age groups:
Children under 14 year ------ 25
Young people aged between 14-20 years ------ 21
Adults aged 21-60 years ------ 102
Adults over 60 years ------ 85
On the whole do the members of your household support a plan for improvements to the hall.
205 people supported a plan for improvements to the Hall
2 people apposed a plan
13 people did not express a view
<![if !vml]>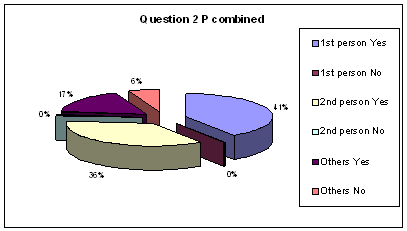 <![endif]>
94% said Yes 6% said No
Have you used the hall in the past 3 years?
<![if !vml]>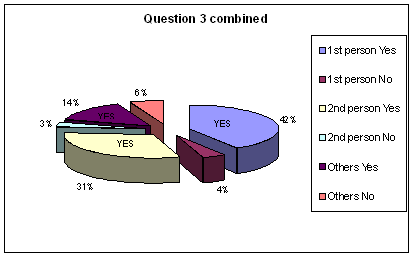 <![endif]>
87% said Yes 13% said No
If so please state what have you attended or used the hall for within the past three years?
<![if !vml]>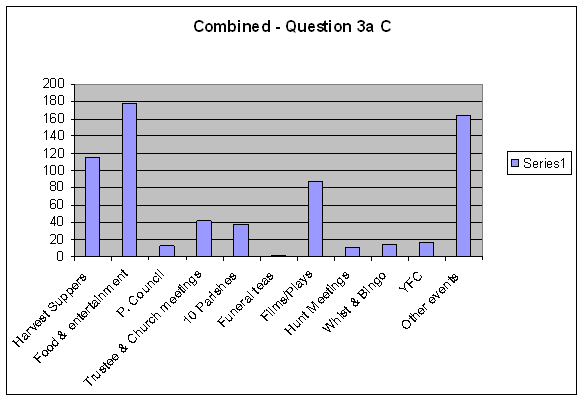 <![endif]>
Other column - events attended include to Following:
Drama practice. Quiz Nights. Scottish Dancing. Race Night. Polling. Various Functions. Auction of Promises. Fairs. Exhibitions. Jazz Nights. AGMS. Private Functions. Birthday Lunch. Plant Talk. Keep fit. Children's parties. Children's classes. Police Talk, etc
.
Were you satisfied with the present facilities?
<![if !vml]>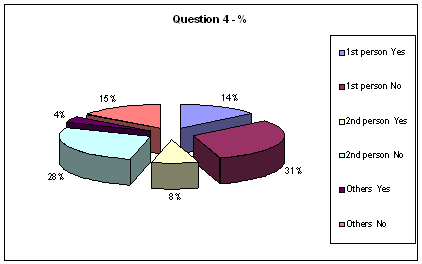 <![endif]>
74% are NOT satisfied, 26% are satisfied
If you have answered no, or if you felt there were short comings when you did use the hall, please indicate why below.
<![if !vml]>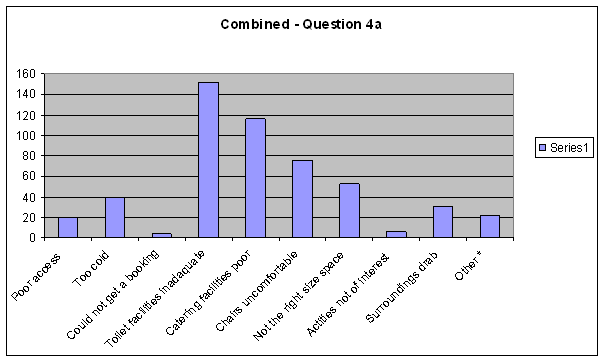 <![endif]>
152 people found the toilet facilities inadequate, 116 people found the Catering facilities poor.
* Note Other column: -- Parking. Poor access across stage and steps to kitchen and toilets.
No dishwasher, lack of storage. No disabled toilets.
Please put the suggestions below in order of priority, should funds become available
<![if !vml]>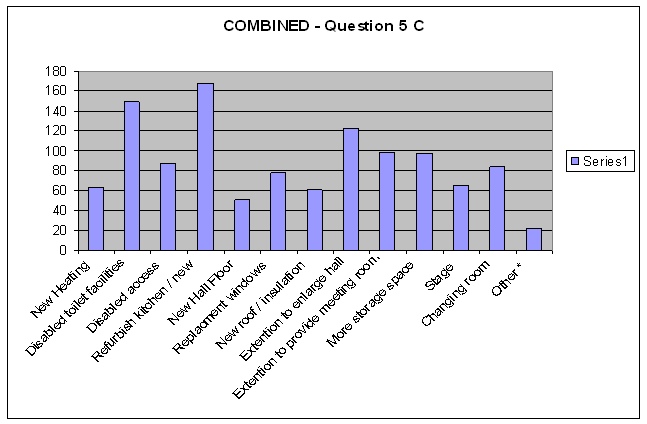 <![endif]>
149 people voted for disabled toilet facilities, 167 people voted for refurbished kitchen/new, 123 people voted for extension to enlarge the hall.
Note – Comments - Other column:
Need for off street parking. Need for dishwasher. New kitchen needed with hatch to main hall. We must prepare the 100 year old Hall for the next generations. Any facility that is needed to improve the Hall for the community. Toilets not just disabled. Baby changing area. Ladies and gents toilets. Re-Locate Toilets. New Toilets. Better ordinary toilet facilities. Good off-road parking. Parking. Proper commercial dishwasher. New kitchen with hatch, Toilet facilities.
Indicate if members of your household would be interested in joining/forming or are already members of any of the following groups.
<![if !vml]>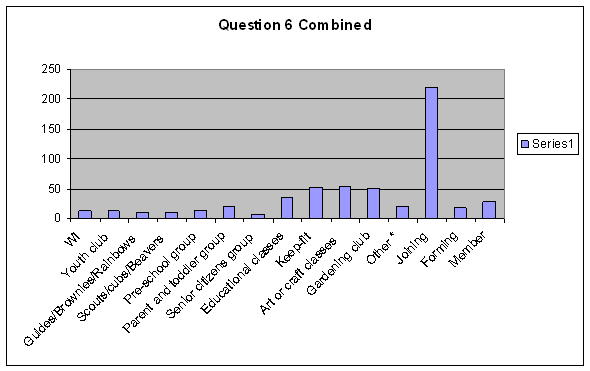 <![endif]>
WI 13 votes

Youth Club 14 votes

Guides/Brownies/ Rainbows 11 votes

Scouts/Cubs/Beavers 11 votes

Pre-School 14 votes

Parent & Toddler Group 20 votes

Senior Citizens Group 8 votes

Educational Classes 36 votes

Keep-Fit 53 votes

Art or Craft Classes 54 votes

Gardening Club 51 Votes

Other 20 Votes **

** Other column suggestions:

Dances

Lunch Club,

Quizzes,

Games Group

IT Classes

Community Group

Drama Group

Music Group & Concert

Singing Group.

219 people would like to join

19 people would like to form

29 people would like to be a member
Which of the above would a member of your household be willing to organize/help run?
<![if !vml]>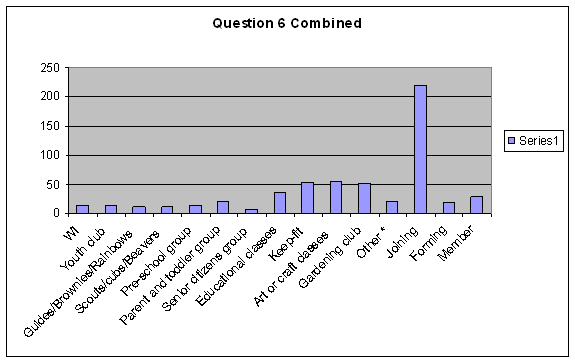 <![endif]>
Art or Craft Classes 6

Keep-Fit 4

Gardening club 8

Dance 1

Lunch Club 2

Games Group 2

Quizzes 2

Play Group 1

Toddler Group 1

Brownie /G/R 1

Educational Group 1

Other ** 21

Other ** column suggestions

Scrapbook Classes

Musical Evenings

Cubs/Scouts/Beavers

Internet

Community Group

Help run any

Senior Citizans

Village Functions

Education Group

Help run Youth Club

Help run Pre-School Group
Please indicate if members of your household would be interested in attending/ using the hall for any of the following functions.
<![if !vml]>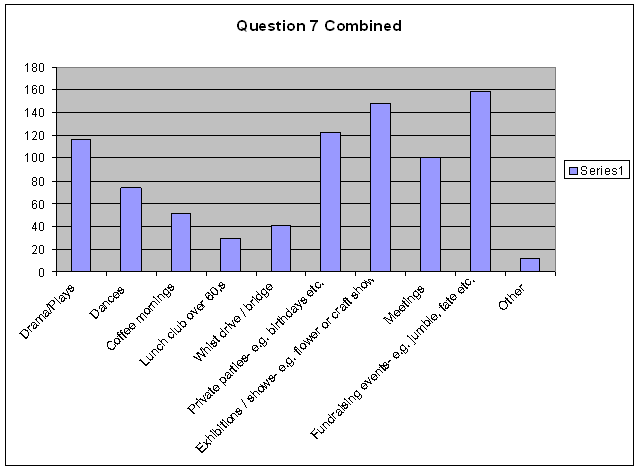 <![endif]>
Drama 116

Dances 74

Coffee mornings 51

Lunch club over 60's 29

Whist Drive / Bridge 41

Private parties etc. 123

Exhibitions / Shows e.g. flower, fate, craft etc. 148

Meetings 100

Fundraising events etc. 159

Other** 12

Other**column suggestions:

All fundraising for charitable causes

Films

Panto

Art/Painting

Film/Slide Shows

Film Shows
Which of the above would a member of your household be willing to organize or help run?
<![if !vml]>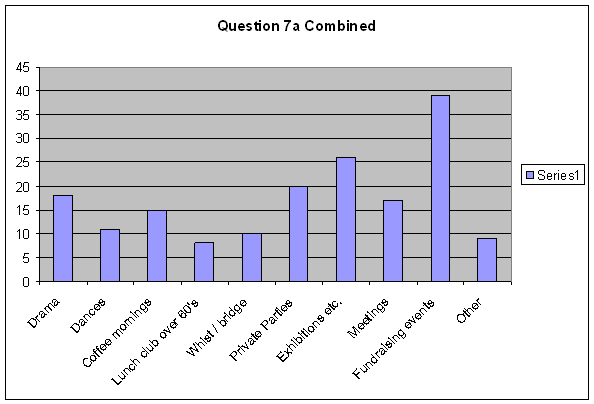 <![endif]>
Drama 18

Dances 11

Coffee mornings 15

Lunch club over 60's 8

Whist / Bridge 10

Private Parties 20

Exhibitions Etc. 26

Meeting 17

Fundraising events 39

Other** 9

Other** column suggestions

Help with most

Help with any

Quiz Night

Film shows

All fundraising events for charitable causes
Please indicate if members of your household would be interested in using the hall for any of the following sports activities.
<![if !vml]>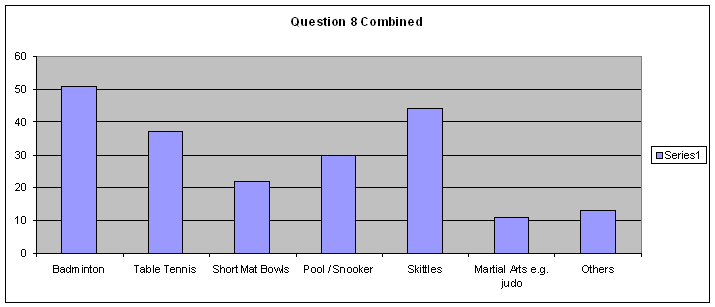 <![endif]>
Others column: – Any charity functions, Any of above activities should be popular, Darts, Yoga, Keep-Fit/Aerobics.
Question 8a
Which of the above would a member of your household be willing to organize or help run.
<![if !vml]>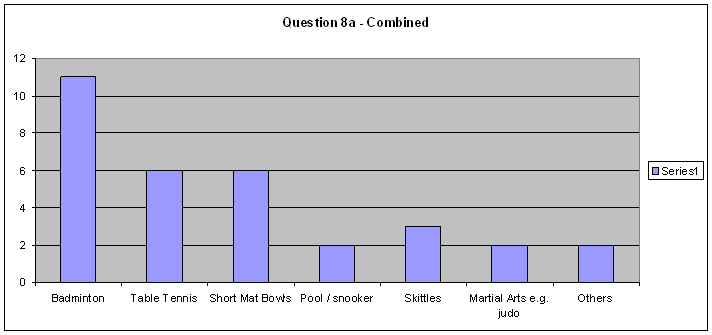 <![endif]>
Others column: – Any of above if for fundraising, when I am available.
Is there any particular help you could contribute towards the project?
<![if !vml]>

<![endif]>
Others column: – Any Charity functions, Any of the above activities should be popular, Darts, Ground Work, Concert to rise funds, Help with Events.
Is there any particular expertise you could contribute to the project?
| | | | | |
| --- | --- | --- | --- | --- |
| Architect | Surveyor | Accountant | Others | |
| | | | 3 | CHIPSTABLE |
| 1 | 1 | 2 | 1 | WATERROW |
| | | | 8 | RADDINGTON |
| 1 | 1 | 2 | 12 | |
Others column: – Knowledge of Village Halls, Links to TDBC, Interior design, Event management, Project Management, Leadership, Carpentry & Practical skills, Engineer, Planning, Marketing, General Help, Building Help, Accessibility, Dogs Body etc., Fit & Able.
Any ideas for fundraising?
Skittle weekend at Lowtrow Inn

Breakfasts

Safari Suppers

Barn Dance

Mouse Race

Pudding club

Cream Tea

Gardens open / Visits

Under 16 Disc

Recycling old mobile phones or cardboard/paper / ink cartridges.

Table top sales

Plant/produce/ e.g. Eggs, jams, cakes etc.

Yes

Quiz night

Monopoly Challenge Cup

Music evenings

Photography exhibition

Easter egg hunt

Local area Exhibition

Hog Roast

Treasure Hunt for kids

Duck Race

Sponsored Walk/Bike Race

Disco

Jumble Sale

General Suggestions for hall:

Building Extension Plans

Porch Entrance door added

Door needed from new kitchen into main hall

Entrance to kitchen opposite loos – ugh!
This Hall Survey was undertaken in late March and early April 2007 by the Hall Trustee's in order to assess the local communities continuing need and support for the Hall.
Many thanks to all those who helped and the large majority who found the time to fill in the questionnaire.